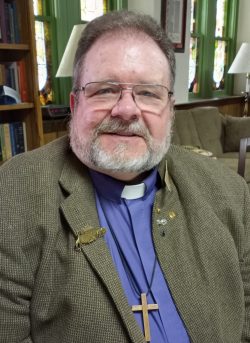 Reverend Mark A. Moon
Office hours: Wednesday & Thursday, 9:00 am – noon, by appointment only.
Rev. Mark is part time at Tarkio Presbyterian Church. You may call him at the church during office hours at 660-736-4641.  You may send emails to tarkiopc@gmail.com. For urgent pastoral needs outside of office hours, you may call or text 816-769-2258.
Pastor's January Article
My deepest apologizes, that I did not get a December Pastor's Article on the website.  December was a blur of wonderful ministry activity.  I believe, because of the ministry we provided in the sanctuary space last month, more people have been inside the church than ever before.  I literally heard folk say, "I have never been in this church, and it is beautiful.  Now, to be fair, we did have the Christmas decorations up.  We celebrated God through worship, wedding vows, the celebration of a life lived in faith. and remembering our Saviors Birth in candlelight at the Lord's Table.
Now it is January, the beginning of the year of our Lord 2023.  Your Session has been gracious enough to offer me another contract for 2023 and we are now waiting for the Commission on Ministry to approve our relationship together from this  February 1st to January 31st 2024.
I m looking forward to doing worshipful work with you all as a Matthew 25 congregation focused on the initiative of Congregational Vitality. In the first year we focused on relational activities to get to know each other, and our community around the church.  The Second year we focused on intentional ministry activities such as the "Prayer Table Ministry" and "Transportation Ministry to the Community Hospital-Fairfax and back in Tarkio for example.  This was with the Session learning, and leading the congregation.  My hope, is that this year we can help all of you learn for the material, and own and explore new possibilities for the vitality the Holy Spirit brings. Continuing to build on what the Holy Spirit has blessed us with already.  Always keeping our eyes open to the new possibilities for worshipful work that the Holy Spirit brings to us.
Let us always give thanks and inviting everyone to "Come and See" to Unbound Praise, Feb. 11th, Sunday Worship at 10:30 am &  remembering… God IS Good, ALL the Time!!!
Grace & Peace,
Pastor Mark
Temporary Transitional Supply Pastor